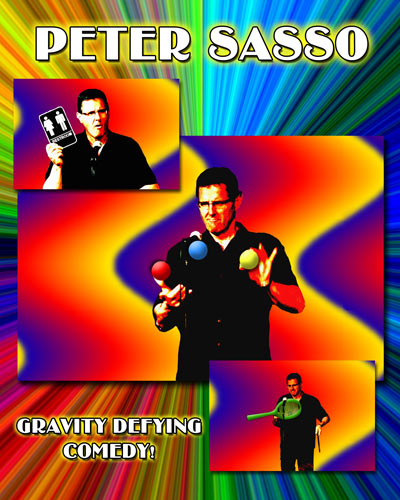 "Peter Sasso is, undeniably, one of the industry's most versatile entertainers."
Peter Sasso's stand-up is always met with non-stop, raucous laughter and standing ovations. He plays to SRO crowds with his rapid-fire comedy and hysterical one-liners. Over 300 original jokes in two 45 minute shows! Peter Sasso's jokes have been published in "Squeaky Clean Comedy", "It's a Man's World", "Comedy Thesaurus", "Love's Funny That Way", "Uncle John's Triumphant 20th Anniversary Bathroom Reader" and the "Laugh Riot" issue of Reader's Digest.
As a Comedy Juggler, Peter Sasso entertains his audiences with his quick wit and diverse juggling skills. Audiences are mesmerized as they laugh along to his side-splitting "Gravity Defying Comedy". His combination of juggling, comedy and audience participation, in two different 45 minute shows, always leaves everyone clamoring for more!